Alaska- The largest but the least populated state in the USA. It is located in North America's northwest extremity. The state is known for its rejuvenating atmosphere and picturesque scenic views. Moreover, the state is also known for being the paradise of stoners. So, is weed legal in Alaska? Know here.
Alaska decriminalized cannabis in 2015 for both recreational and medical purposes. Cannabis was legal even before. It was among the first states of the USA to legalize marijuana altogether.
Yeah, you get it right! It has an exciting history and marijuana laws. Stick to the article to know!
Cannabis in Alaska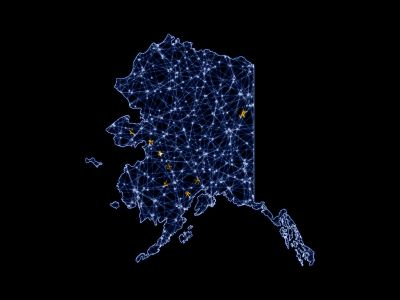 As mentioned above, marijuana in Alaska is not taboo. It's legal in Alaska with a few restrictions. Ahead of knowing Alaska Marijuana Laws, you must dig out their fascinating history of weed.
History Of Cannabis In Alaska:
The relationship between marijuana with Alaska is quite old. Cannabis possession and cultivation were allowed in Alaska when no other states could even think about it. The final legislation in 2015 took place after a long criminalization and decriminalizing history of cannabis.
Let's see how:
It all started when in 1971, President Richard Nixon introduced the Comprehensive Drug Abuse Prevention and Control Act.
On May 16, 1975, Alaska legalized marijuana and became the second state in the USA to decriminalize cannabis. However, possession of marijuana means a $100 fine by this law. Surprisingly the rule existed only for a week as the Ravin V State decision came out soon.
Ravin V. State: Ravin v. State was a decision made by the Alaska Supreme court ruled in 1975. The court protected the constitutional right to privacy and decriminalized adult use of small amounts of marijuana on their private property by this law. Adults can use some amount of cannabis for their personal use.
Again, in $100 fine got removed in 1982. Then in 1986, Alaska legislation allowed to possess 4 ounces of weed at home and up to 1 ounce outside the home. They are allowed to gift someone up to 1 ounce.
Dramatically, in 1990, the government re-criminalized possession by ballot measure 2, and possession of small amounts of marijuana became a punishable misdemeanor. For this, the guilty needed to spend 90 days in jail or $1000 as a fine or sometimes both.
Interestingly, in 1998, the legislation took a twist when voters voted in favor of medical marijuana. Then Alaska medical marijuana laws, ballot measure 8, came into existence and made medical cannabis legal for the qualifying ones. Also allowed to grow up to 6 plants ( 3 mature at once).
The Final Legislation:
From the year 2000 to 2006, marijuana legalization remained on the pendulum. During this time, multiple attempts were made to make recreational use legal in Alaska but failed.
Then finally, in 2014, through a solid move, Alaska marijuana state legislature Ballot measure 2 was approved by more than 53% of the votes. And since Lt. Gov. Kevin Meyer signed off the onsite consumption laws in March 2019, they became law in April 2019.
The alcohol beverage control board turned into the Alcohol marijuana control office. That further founded the marijuana control board for regulating and governing the recreational use of cannabis in Alaska.
So, there has been a roller coaster ride for the legalization of cannabis in Alaska so far.
Alaska Marijuana Laws: Must Know the role of the Marijuana control board
As you have read above, Alaska has already given the green signal for cannabis use. But the, legalization has some restrictions and responsibilities.
Let's unwind Alaska Law for marijuana:
As of now-
Medical Marijuana: Legal
Recreational Marijuana: Legal
Alaska residents and travelers can possess up to four-ounce and grow up to six plants of cannabis.
Cannabis laws for Marijuana possession:
Yes, it is legal to possess up to 4 ounces of weed, but you have to face the legislation if you cross limits.
You can possess up to 4 ounces of weed in your private residence, but more than that is a felony. You have to go to jail for 1 year, a $10,000 fine, or maybe both.
Possession of more than 4 ounces may lead you to 5 years of jail and a $50,000 fine.
You can keep up to one ounce of weed outside your home. Get ready to pay a $100 fine if you smoke in public.
Cannabis possession near 500 feet of any school grounds or recreation center is an unclassified felony and will be punishable.
Also, smoking weed in public like national parks or other public places is an offense, and you need to pay a heavy fine.
Cannabis Laws for the cultivation of marijuana:
Though, it is legal to grow 6 plants at home. Still, there is a law to protect the misuse.
One person can grow up to 6 cannabis plants for personal use.
The maximum limit allowed for the cultivation is 12 marijuana plants per household. ( for 2 or more adults)
If anyone grows up to or more than 25 cannabis seeds or plants, it is a felony.
Cannabis Laws for Cannabis selling in Alaska:
Only licensed dispensaries in Alaska can sell cannabis or marijuana products.
If you try to sell less than an ounce- it is a misdemeanor, and you will end up in jail for one year.
While selling more than one ounce, will be subject to jail time of 5 years.
You may get 10 years jail sentence if you sell cannabis or marijuana products to minors or younger than the adult age.
Cannabis laws for transportation of Cannabis in Alaska:
It is highly illegal to export or transport cannabis or marijuana products from Alaska. Instead, Alaska shares its border with Canada. Don't even think of it. You will be in trouble.
Marijuana laws for Medical Marijuana
Medical marijuana use became legal in 1998 in Alaska. However, one has to have a medical marijuana license in Alaska.
Patients can receive a medical marijuana card from a doctor.
They can purchase marijuana up to 1 ounce of it and can cultivate up to 6 marijuana plants for their personal use.
If you want to get a medical marijuana card, you need to apply for the Medical marijuana registry card. Alaska Department of Health and social services issued this card.
If you qualify, you will get the card and access to medical marijuana. This way, Alaska promotes responsible marijuana consumption.
Where to get weed in Alaska:
You can not purchase marijuana from anywhere in Alaska. However, only licensed dispensaries have the authority to sell cannabis products.
It would help if you were among young adults at least 21 years of age. They can purchase up to 1 ounce of weed from the legal dispensaries.
No need to mention that you need to show your valid age proof and ID proof while buying cannabis.
Patients less than the legal age cannot be given marijuana. Instead, their caregivers will be allowed to buy for them.
One can buy weed from the following local dispensaries in Alaska.
Enlighten Alaska
Kush Topia
Alaska Cannabis Exchange
And Alaska Fireweed
Alaska Cannabis CompanyMost of them is located in cities like Anchorage or Colorado. If you find it difficult to travel to buy seeds, then it is better to look upon the online seed banks like:
ILGM
MSNL seed bank
Crop king Seed BankAll of them send seeds to Alaska and have a massive collection at a fair price. Your order will arrive in a sealed container. Keep it secure.
FAQs: Is weed Legal in Alaska
What is the legal age to smoke weed in Alaska?
Anyone, more than 21 years of age can use weed.
What are the qualifying conditions to get a medical marijuana card?
Cancer, Severe nausea, HIV/AIDS, Glaucoma, Multiple sclerosis, Seizures, muscle spasm, and prolonged pain are some conditions for which the medical marijuana card gets issued.
Where can I use weed?
You can enjoy weed in your place, your home, or if property owners allow you to smoke on their property.
Can I smoke in my car or my vehicle?
You cannot smoke on or inside any vehicle with a motor. Like, cars, bikes, ATVs, cruisers, aircraft, watercraft, etc.
Is there any registration fee for the medical marijuana card?
Yes, for the original card, you have to pay $25, and if you want to get it renewed, the fees would be $20.
Can I use a medical marijuana card issued by any other state?
No. the Alaska Department of Health and social services does not accept MMJ cards from other territories.
Can we enjoy dabs in Alaska?

Indeed. Dabs are legal. You can enjoy flowers, concentrates, tinctures, oils, topicals, edibles, etc.
What are the qualifying conditions for the caregivers in Alaska?
Caregivers must be of legal age of 21 years or more.
The patient should mention them.
The caregiver must not be indulged in some felony of narcotics.
One person can be a caregiver of one patient at a time.
Where can I learn more about cannabis consumption in Alaska?
Click here to find the website.
Can I carry marijuana while traveling to Alaska?
No. It's illegal to cross the borders with weed.
Conclusion:
Alaska is a weed-welcoming state. But you cannot avoid the laws. You don't need to break the rules in such a friendly place. You can enjoy everything from possession to cultivation with other fellows. Isn't it great!
So, whether you are planning a trip to Alaska or reside there, follow the rules to stay safe. Buy from the legal source to avoid legislation.