Tired of finding The Growhouse online dispensary reviews? I know you must be confused. So, find the real and unbiased one here!
The Grow house online dispensary is a top-notch platform for buying premium cannabis. The dispensary has built a solid reputation in the weed market. But, still, if you look at its reviews or customer feedback, you will find at some platforms like CusRev, it has gained a perfect score. However, the dispensary falls in an average category on other platforms like Trustpilot and Trustindex.
So why is it so? What's good or bad about the Grow house?
Here, we give you a completely unbiased review of the Grow house online dispensary. This review will help you decide whether The Grow house could be your next pick for purchase.
Let's start,
---
The Grow House Online Dispensary Review

Indeed, everyone wants value for every penny spent. And if it is about marijuana, choosing the best dispensary to get the weed becomes essential.
The Grow House is undoubtedly one of the best online dispensaries in Canada. But in some aspects, the company has a long way to go, which I will discuss in detail in this article.
Let's peep into its background first.
The History: Grow House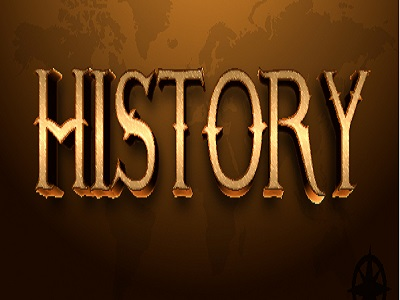 If you would like to know something or someone, it is worth looking back into the past. Here also, I would like to make you aware of the background of the Grow house company.
But unfortunately, due to minimal information about the company's past, nothing much to say here.
While closely looking at the customers' reviews and other information on the web, we can say that the company has been catering for several years. It is operating from BC, Canada. Likewise, any great company, The Grow house claims to have never stocked any cheap products.
Let's discuss reputation.
Market Reputation: The Grow house
Though the business has a solid market reputation, a massive contrast in customer feedback on various platforms compels us to double-check the dispensary.
The company is gaining popularity over its monthly weed subscription boxes. The offer provides customers peace of mind as they get the same order on time without ordering again and again.
As I mentioned, this dispensary is rated as a top-shelf business on one platform and average on the others.
I want to recommend here to please think ahead of ordering from here. Try to get the views of someone ahead of buying!
I can assume that you are enjoying the review. Wait! We have more to reveal!
Website: The Grow House
Yes! in today's world of the internet, it is worth checking the website of any business. So here we are, with the most detailed website review of The Grow house.
Stick to the article!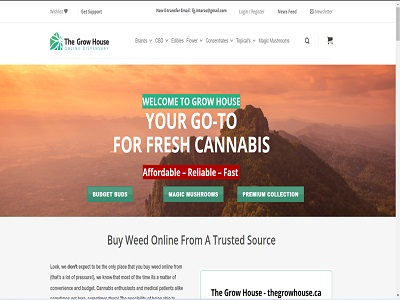 The brand has a remarkably well-planned website. If you want to visit the site, click on the link below.
First of all, its loading speed is incredible. The whole website would be in front of you in just a blink of your eye.
Design:
The website looks incredibly structured. I loved the colour scheme as well. It just soothes the eyes. Like other good sites, the website offers easy and quick navigation.
The designer has kept the site clutter-free. And that is what makes it worth spending our time.
You will notice that the menu is correctly channelized into sub-sections like brands, CBD, Edible flower, concentrates, and magic mushrooms. Further, the drop-down list will help you in your search.
Navigation:
Again smooth navigation gives you a wonderful experience, which you will find at The grow house site.
What's more exciting than the feeling of having the whole company under your fingertips!
They have a search bar for quick results as well. You can find out as you need. They have different pages for bestsellers, edibles, vapes, joints, etc.
So, the website is good enough for having mess-free time!
User Experience:
I find the site very friendly and easy to handle as a user. However, there is nothing that a Lehman user cannot understand. Instead, the website gives a user full access to learn about the strains or other products.
Overall, a very user-friendly website.
However, I find the lack of information about the company itself. Therefore, there must be a brief history of the brand to let others know how and when it starts.
Indeed, it adds to the credibility of the dispensary.
After the website, it's time to look into the quality of the products.
The Products: Collection and Quality Analysis
Products are the biggest asset for any cannabis dispensary and play a vital role in gaining recognition among various other dispensaries.
And, I must say, the Grow house nailed it!
The Grow House takes the quality of its products very seriously. They live up to their claim to keep only the best quality premium products. That's why some people criticize the brand for having limited options, unlike the other big names in the cannabis industry.
However, I must say that whatever you are ordering from The Grow house, you cannot question their quality. Just order and enjoy thoroughly.
Their products include high-quality flowers, CBD, edibles, concentrates, tropicals, magic mushrooms, etc.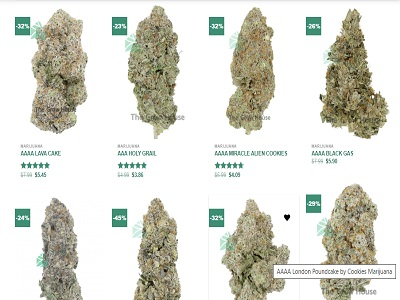 Here you must be thinking about how the dispensary maintains its superior quality. Well, the answer is their suppliers. The company claims to work with only the premium grow houses of BC, Canada. And that's how the quality is maintained.
Have a look at the brands the Grow house works with.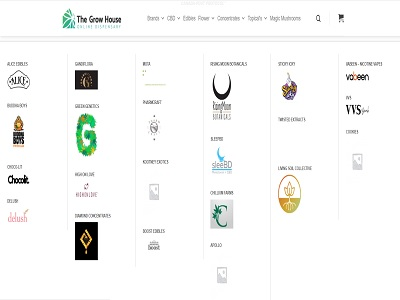 Bestselling Products:
The dispensary has many products in demand. But, of course, the excellence of their stuff is the reason behind the public demand.
If you look at their bestsellers, it includes something from each category. Likewise, balm, oils, flowers, vapes, mushrooms, etc.
Some weed strains are available in high-quality flowers and are always in demand, like Island Pink, Citrique, Super Lemon Haze, Black Domin, etc.
They provide an excellent service as premium stuff.
Price: Remember that you are paying money for the excellence
A few people complained about the prices of the items. But, I would like to take a favour as I know that you always pay higher for the superiority.
Also, they have tried to put every item at a decent cost so that most people keep ordering from them. However, you will not find anything for the low prices. So it's on a bit higher side always.
Yet, their deals and coupon codes make the item affordable. Also, if you are concerned about paying higher, you can expect to get in the sale.
So, keep checking on the prices at the Grow house dispensary.
Customer service online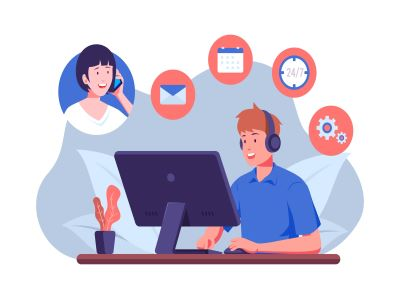 Every customer wants to enjoy the top-notch customer service from the company. Thus, it is not a good idea to leave this aspect.
As far as the customer service of the Grow house is concerned, the company needs to work on that. However, if you ask me about my personal experience, I would say you must keep patience as their response time is prolonged.
Also, if you look at the comments of the customers, you will find the following flaws in the customer service:
Customer support executives take along to answer. Sometimes you would get the response in the mail after a week.
There is a lack of online chat boxes.
You cannot contact them 24×7.
They are good at phone calls, but you cannot hope for a prompt response even after sending a few emails.
If something goes wrong with the order, you must follow a time taking process to get a refund.
Also, if the time order is Friday night, your order would be dispatched only on the following Monday. Therefore, they will not respond to your queries for the same.
This way, you can see it's challenging to get to their customers ' executives quickly. However, it's better to call them to get your query resolved.
It is clear why they have so many negative customer reviews.
Look at one honest customer review: " Placed an order a couple of nights ago… Placed an order online, paid the e-transfer immediately, then went to bed. I woke up to a few emails from them saying I left items in my cart, orders received, etc., .but the items in the cart ones intrigued me, so I opened it up to see a price for the same order I made the night. Before.."
Payment Methods
It's a little disappointing, but they have only Crypto and Email transfer as their payment methods.
Packaging and Shipping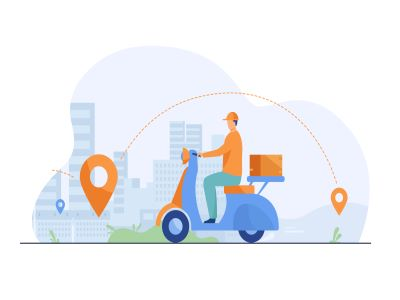 Safe package and guaranteed shipping- this is the area the Grow house has attained its market reputation.
Indeed, looking at the customers' reviews, you will be pleased to know how the business is appreciated for its discreet packaging and fast delivery.
Your order will come to you with-
No signs of the contents of the package.
Your cannabis strain and other products will be found in a sterile overwrap vacuum sealed pack.
You will receive your package in a padded Canada post Xpress envelope.
The package does not contain other marks or signs except your name and address.
You will find people talking about this business and praising their efforts. Most of the customers stated that they received their order very fast.
Usually, the order takes 2-3 days to reach you through the Canada Post. But in some cases, it might take a week.
Their super-fast delivery is their USP. I have not heard about any other Moms delivering so quickly! furthermore, you will get a tracking id when you place your order.
Kudos to the team and their efforts!
Moreover, you get guaranteed delivery. Yes! The Grow house offers guaranteed delivery to its customers. For that, they don't change anything. Instead, you need to select the " mandatory signature" to avail of this offer.
What's more!
They have excellent return and refund policies. If your order is damaged, you must send its picture within a day after delivery.
Now, there is no point in doubting their package and delivery. Just the one thing!. You must order for $150 or above to avail yourself the free shipping,
Promotions, Deals, and Discounts
Another considerable benefit of ordering through the Grow house is that the weed can be available to you in a very generous amount. Yes, I told you you spend money on quality, yet the business offers huge sales and heavy deals on its cannabis products to ensure their customers' peace.
Surprisingly, customers get their favourite top-shelf cannabis buds and flower for under $2 per gram in their deal of the week.
Isn't it exciting?
While coming across some reviews, I found that the users get very exciting while talking about the huge discounts they got at the flash sales or during the regular discounts.
DuYouan gets your cannabis strain at unbelievable discounts of up to 30%. However, saving your money can be more satisfying during flash sales.
Also, the Grow House offers a free gram for your first order. Indeed, if you order for the first time, you can save a lot of money!
Also, the Grow House offers a free gram for your first order. Indeed, if you order for the first time, you can save a lot of money!
They run an affiliate program through which you can earn points and save your penny in future deals.
The weed Subscription Boxes program is an all-time hit! This is a perfect way to save a lot as well!
Customer Reviews
Customer reviews contradict each other on various platforms. Some customers keep praising the quality of their cannabis strains, while others criticize them for the same.
Have a look:
A positive Review:
"Great customer service, excellent products, and fast delivery. Thanks to Erika for all your help. Best online dispensary I've used to date. Thanks, and looking forward to doing more business with you."
I would say, don't go after the reviews blindly as you can not find the truth this way. Instead, find someone known to you who can give you the best suggestions Or you may take a chance and experience it yourself!
---
The Grow House: Pros and Cons:
Pros:
Reliable
Excellent quality products.
Fresh cannabis only
Stocks from top breeders
Massive deals and flash sales
Heavy discounts
Fast delivery
Guaranteed shipping
Return and refund policy
Cons:
Poor customer service
late response
No free delivery
A few payment options
---
FAQs about The GrowHouse online Reviews
What are the eligibility criteria to order from Grow house dispensary Canada?
You must be a Canadian citizen.
And you should be more than 19 years of age.
Does the Grow house ship to the USA?

No, They deliver only in Canada.
What is the time to contact them?

You can contact me through text or phone calls between 10 AM to 10 PM from Monday to Friday.
Do they accept Bitcoin?

Yes, they accept cryptocurrencies.
Will they reship my parcel?

Yes, but you must pay $20 as re-shipping charges if the address is wrong.
Is the grow House legit?
Indeed. They have been catering for so many years. They are not scamming. The grow house is a 100% genuine dispensary in Canada.
Can I pay through cash?

No, they accept crypto and email transfer only.
What is the shipping insurance?
If you insure your order, then in case of the lost package, you will get the replacement in a couple of days,
How can I become an affiliate?
Well, you must be a registered user on the website. Also, you will get 15% of the commission if the order gets placed.
Is the dispensary reliable?
The Gro house is well known for its premium products and fast delivery. You can certainly trust them.
---
Final Words:
Hopefully, it would help if you liked the review. It resulted from our sincere efforts to help you make the right decision.
Undoubtedly, the Grow house is a good cannabis dispensary. But, their customer services and some other area need improvement.
I recommend you take either personal experience or advice from someone experienced in the grow house services. And, of course, our review will assist you!