Post Traumatic Stress Disorder PTSD and anxiety are some of the most common sicknesses in most people worldwide. While anxiety has affected almost 60% of the world population,
PTSD is undoubtedly less in number yet a matter of great concern. Indeed, we all have the primary responsibility to keep ourselves healthy. And for the cause, we take the help of yoga, meditation, a different form of exercise, and medications.
Unfortunately, nothing can cure PTSD and anxiety disorders ultimately. However, it may help to some extent.
Good News!!
Since the legalization of marijuana strains, a lot of research and studies came into existence that offends the use of medical marijuana strains in many health ailments. Likewise, analyses show relevant evidence that using cannabis strains to treat PTSD and anxiety has positive effects on anxiety and PTSD sufferers.
We want to recommend one incredible strain for treating PTSD: Pineapple Express. Yet there are many.
Thus, now you don't need to suffer anymore; run down through the list of 420expertadvisor and find the right strain for you.
But ahead of getting into strains, let's know about PTSD and anxiety…
---
Post Traumatic Stress Disorder And Anxiety in Brief
Both PTSD and Anxiety are mental illnesses still
Let's take them one by one.
What is PTSD? Symptoms and Cure: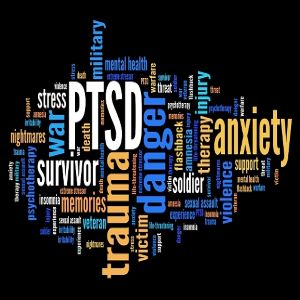 As its name says, PTSD is a kind of mental illness or stress that happens after something horrible incident like accidents, trauma, war, nightmare, etc.
Maybe it looks so easy to you but minds it- it is not at all easy to handle. It would help if you asked PTSD patients regarding this. PTSD symptoms are likely to increase gradually if left untreated, and slowly they will take on the life of the people with PTSD.
Reasons for Appearances of the PTSD:
Traumatic Event or series of similar events
trauma memories
Accidents
Sexual Assault
Prolonged Chronic Disease
Post War- It is usually observed in War veterans, soldiers,
Natural Disasters
Anxiety
Indeed, no one should live with such mind-farm stead; treatment sets available for treating PTSD include group therapy or some Psychotherapy, in which therapists usually consider cognitive processing therapy to help patients to deal with such issues.
But, As I already said, nothing can cure it completely. In fact, in some cases, PTSD could turn worse this way.
Anxiety:
Unfortunately, anxiety is everywhere in this world. Anxiety is a feeling we have nervousness, fear, concern for the future, etc. Undeniably, as we live in the fast-pacing world, we tend to feel anxious in our workplace, social gatherings, and even our home. This mental state is not good and severely affects our usual chores and confidence.
Just go through our article on anxiety and learn every detail.
Reasons for feeling Anxious:
Anxiety Disorder is a related term. It is even caused by PTSD too. Yet more common symptoms are
Depression
Stress
Insomnia
anger
Burder at workplace/ home, etc.
Exercise may cure anxiety, active lifestyle, therapies, medicine themselves. But again, there is no guaranteed treatment in this regard.
So what does Cannabis strain do?… Let's check out our next segment.
---
Cannabis Use: The best Marijuana Strains to treat Anxiety or PTSD patients
Now the question immediately arises of how cannabis strains can help to treat PTSD symptoms as well as anxiety symptoms.
Eventually, studies say that there exist certain marijuana strains that help treat symptoms of severe anxiety and eliminate trauma memories.
High THC or High CBD cannabis strains?: Which works better?
THC is a psychoactive compound that can increase your anxiety and even cause paranoia.
Therefore, it is always better to prefer a cannabis strain with high CBD to treat anxiety. However, for eliminating PTSD symptoms, it is always best to choose high THC.
Without any further discussion, let's move to our best medical marijuana strains for PTSD and anxiety…
---
Best Strains for PTSD and Anxiety:
Following is the list of the best strains that could help in eliminating PTSD symptoms and anxiety from your life:
Sour Kush
Blue Dream
Pineapple Express
Air Jordan OG
Master Kush
Cannatonic
Harlequin
Headband
ACDC
OG Kush
I will take you in detail about each strain mentioned above.
#1) Sour Kush: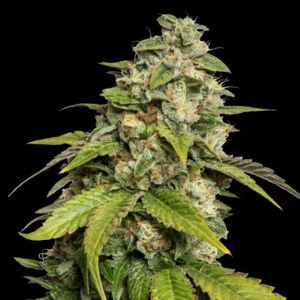 Sour OG Kush, Sour Diesel OG, Sour OG, whatever you call this high potent Indica dominant hybrid strain, has effectively treated many PTSD patients with its whopping 30% THC level.
Sour Kush is quite famous on the west coast and Arizona. It is known for its pungent diesel-like smell with citrus notes and tastes like citrus, sweet and lemony.
This incredibly therapeutic cannabis strain has ultimate sleep-inducing and relaxing effects due to incredible THC content and high psychoactive effects and thus may cure ADD/ADHD, PTSD, depression, insomnia. You can observe a deep sleep, which will help you get over your mental illness.
Be mindful of doses!
Highlights:
Parents: OG Kush X Sour Diesel
THC/ CBD: 20-30% / 0.4-0.8%
Effects: Euphoric, Happy, Relaxing, Sleepy
Side Effects: Paranoia, Anxiety
Medical Use: Insomnia, PTSD, Depression, ADHD
---
#2) Blue Dream: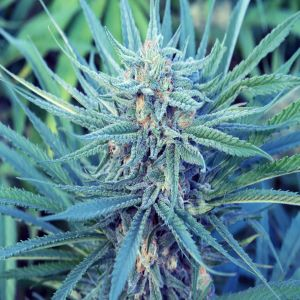 Sativa dominant is a prevalent hybrid strain for all your ailments. Blue Dream is obtained by crossing Blueberry with Haze.
Blue Dream cannabis strain is great to taste and divine to smell as it correspondingly carries blueberry flavors with sweet and citrus hints.
Lovable!
Simply by calming and euphoric body effects, it gives you a dose of energy to boost creativity and enhance focus.
Not considered appropriate for the novices being high THC and CBD content, Blue dream is just an ultimate marijuana strain best for medical and recreational purposes. It is just the best treatment if you face stress, anxiety, depression.
Highlights:
Parents: Blueberry X Haze
THC/ CBD: 20-23% / 1.2-2%
Effects: Long-lasting high, Cerebral, Euphoric, Uplifting
Side Effects: Paranoia, headache
Medical Use: Anxiety, Depression, Arthritis, Nausea, Pain, Inflammation, Stress
---
#3) Pineapple Express: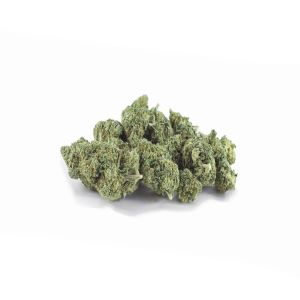 If you want to treat PTSD with a delicious high, Pineapple express is the best among the best strains for you.
This one of today's most popular strains has a prominent flavor of tropical pineapple that is sweet and citrus both. And earthy, piney, fruity, like fragrance, will catch you.
These Sativa strains are magical when coming to their effects. Upon smoking, you will feel giggly, happy, euphoric, calm, focused, and that's why it treats well those who are suffering from the memories of any traumatic event.
These strains are considered the best strains for PTSD and, apart from that, treat PMS, glaucoma, hypertension, chronic pain, and muscular dystrophy.
Highlights:
Parents: Trainwreck X Hawaiian
THC/ CBD: 19-25% /1%
Effects: Energetic, happy, calm, giggly, focused
Side Effects: Paranoia, Anxiety, dry eyes, and mouth
Medical Use: PTSD, PMS, Muscular Dystrophy, Chronic Pain, Hypertension
---
#4) Air Jordan OG: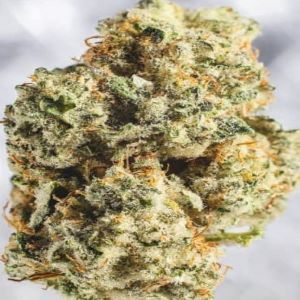 Air Jordan OG is the pure indica strain that is a native strain to California.
Being a delightful Indica with good THC content is relaxing and sleep-inducing.
Therefore, if you are looking for a medical cannabis strain to help you sleep, go ahead with this. Unfortunately, many PTSD sufferers and patients with anxiety disorders find relief with the help of Air Jordan.
It is rarely found. So if you are lucky enough to find this medical marijuana, choose this one.
Highlights:
Parents: Kush
THC/ CBD: 10-16% /1%
Effects: Energetic, Tingly, calm, giggly, focused, talkative
Side Effects: Slurred Speech, Hunger
Medical Use: PTSD, Anxiety, Chronic Pain, Hypertension, Stress
---
#5) Master Kush: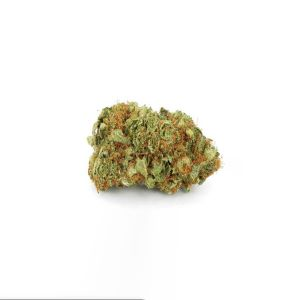 We are talking about a pure Indica cannabis strain to fight your anxiety and PTSD. It is the cross resultant of two legendary Hindu Kush Cannabis strains.
Often you will find citrus and peppery notes in fragrance and taste.
This highly potent Indica is not suggested for beginners by any medical professional. Master Kush is packed with a high THC of around 24; this strain works as a great sleep aid and thus helps in providing full-body relaxation and helps a person living with PTSD and anxiety patients in dealing with traumatic events. This cannabis strain is a great pain reliever as well.
Undoubtedly, this kush is the perfect medical marijuana to ask!
Highlights:
Parents: Hindu Kush
THC/ CBD: 21-25% / 0.5-0.8%
Effects: Euphoric effect, tingly, sedative, sleep aid, pain reliever
Side Effects: Dizziness, Thirst, Dry mouth
Medical Use: PTSD, Anxiety, Chronic Pain, Muscular Dystrophy, Migraines, ADHD
---
#6) Cannatonic: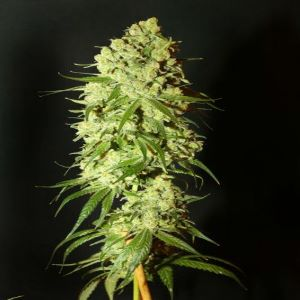 Cannatonic is a CBD-rich cannabis strain and low THC content. The strain's CBD strength makes it exceptionally unwinding, with cerebral bliss, body buzz, pain, and stress diminishing.
Excellent recreational and therapeutic marijuana, Cannatonic is suggested to treat headaches, anxiety, depression, chronic pain, and stress.
It works brilliantly in treating social anxiety disorder.
Highlights:
Parents: MK Ultra X G13 Haze
THC/ CBD: 6-10% / 5-9%
Effects: Euphoric effect, body buzz, relaxing, Happy
Side Effects: Rapid Heartbeat, Dry Eyes, Thirst
Medical Use: Anxiety, Chronic Pain, Stress, Depression
---
#7) Harlequin: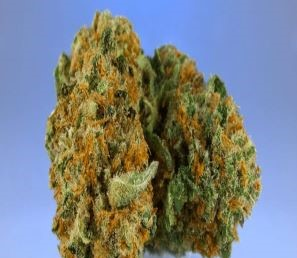 Harlequin weed strains are Sativa dominant CBD dominating strains with pleasant and Euphoric effects.
Harlequin has low THC, around 5-7%, and 8-11% CBD, making it the perfect choice for novices and veterans.
With sweet and fruity fragrance and ultimate mango-like, herbal and fruity taste, it treats anxiety, stress, depression, inflammation, pain with its excellent happy and euphoric effects.
This multiple award-winning cannabis strain is the ultimate choice for the patients too.
Highlights:
Parents: Colombian Gold X Nepali Indica X Thai X Swiss landrace
THC/ CBD: 5-7% / 8-11%
Effects: Euphoric effect, Happy, body buzz, relaxing, Happy
Side Effects: Rapid Heartbeat, dizziness, headache
Medical Use: Anxiety, Chronic Pain, Stress, Depression
---
#8) Headband: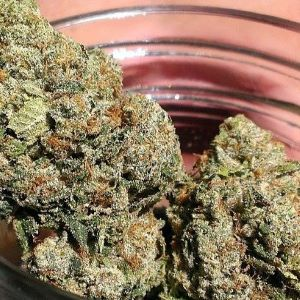 PTSD or Post-traumatic stress disorder is a psychiatric disorder treated by some specific strains. Luckily, we have one that is Headband.
With Indica dominance and high THC 20-23%, the Headband effectively treats pain, mood disorders, stress, anxiety, depression, insomnia, nausea. It works best for ADD/ADHD and PTSD symptoms. Its deliciously sweet, citrus, and diesel-like smell and taste would leave you craving for it.
Highlights:
Parents: OG Kush X Sour Diesel
THC/ CBD: 20-23% / 2%
Effects: Euphoric effect, Cerebral, Happy, body buzz, relaxing, calming,
Side Effects: Dry mouth, dizziness, Dry Eyes
Medical Use: PTSD, Anxiety, stress, depression, mood disorder, insomnia, nausea, pain
---
#9) ACDC: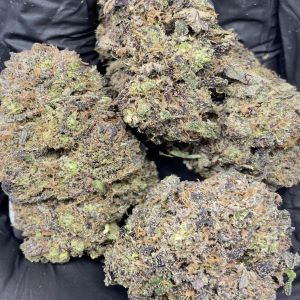 ACDC is a phenotype of Cannatonic with extreme energizing effects to blow out all your worries and stress away.
This ultimately high CBD cannabis strain works wonder on ADD/ ADHD and PTSD, and anxiety sufferers.
Upon smoking, it gives fruity, cherry citrus, lemongrass hints. However, many cannabis products like oils, lotion, creme, edibles are better to experience such a potent strain.
Highlights:
Parents: phenotype of cannatonic
THC/ CBD: 2% / 15-20%
Effects: Cerebral, Happy, body buzz, relaxing, calming,
Side Effects: Dry mouth, dizziness, Dry Eyes, headache
Medical Use: Anxiety, stress, depression, mood disorder, insomnia, nausea, pain, Chemotherapy, epilepsy
---
#10) OG Kush: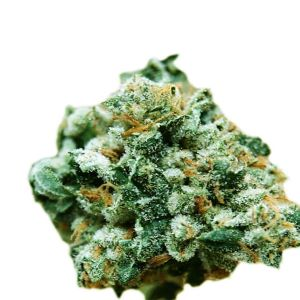 Last but not least, how can we forget our all-time favorite medical marijuana strain!
This legend is Indica's dominant hybrid treats several diseases like pain, insomnia, stress, anxiety, depression, PTSD, Migraines, and even Alzheimer's by the pleasant and euphoric effect caused by high THC content.
Though it makes you couchlock after a couple of hours of having it, This is one of the most demanding strains of all time.
Just relax and order your portion of OG now!
Highlights:
Parents: Hindu Kush X Chemdawg
THC/ CBD: 18-23% / 0.06-0.6%
Effects: Couch lock, relaxing, sleepy, Euphoric, Cerebral, Happy
Side Effects: Dry mouth, paranoia, thirst
Medical Use: PTSD, Anxiety, stress, depression, mood disorder, insomnia, nausea, pain, Alzheimer's disease
It's time to look at our new segment.
---
Take Away about Best Strains for PTSD and Anxiety:
In essence, no treatment could indeed treat PTSD and anxiety, but researchers will find a convenient and effective method to relieve people who are suffering.
Painkillers antidepressants are easy yet more harmful ways to provide temporary relief. Thankfully, The world is open to welcoming medical cannabis strain, and studies are going on.
Hopefully, these herbs will soon provide us with permanent yet all-natural solutions for PTSD and anxiety kind of symptoms.
Till then, Sit back and chill with medical cannabis, which will help you through life in a better way.
FAQs:
What are the symptoms of PTSD?
The most common symptoms are
Continuously reminding of the traumatic event.
Feeling guilt or shame.
Negative or suicidal feelings
Avoiding being Social
Numbness while facing or remembering the incident
What type of strain is better for managing symptoms like anxiety and PTSD?
In short, Hybrid strains with low THC are the best to deal with both.