Knock, Knock! Find your Best strains for pain and fatigue are here only!
Let's take a pause, sit down and relax! Why? Because we all need to get relief and slow down sometimes.
Here's discussing a very important and crucial topic Chronic pain and fatigue- which we all have faced at some moment in our life.
Am I right? I know I am…
Therefore, let's talk about these and know how medical marijuana strains would help you.
Well, I found Jack Herer the best for the cause- by using it, not only severe pain relieved, but also it made me extremely energetic, and active to fight the fatigue in a constructive manner.
If you are one among chronic pain sufferers or the one who often encounters fatigue and find it difficult to carry your daily tasks, then stop by and read the full article…
---
What do pain and fatigue bring for you?
Surely, if any health ailment comes across your body, the first thing you face is a certain negative feeling that won't let you move ahead to perform well.
let's check what happens when some kind of pain or low feeling hits you hard and remain untreated
Pain or chronic pain:
In general, we all suffer from pain. It may be nerve pain, headache, stomachache, body ache, cramps etc. Usually, this pain gets treated with some medicines, care or ointments.
If we talk about chronic pain, it is a long-lasting pain that is left untreated or may stay with you all the time for more than months.
In such cases, patients suffering might have depression, anxiety or other mental ailments and thus won't be able to focus and also feel demotivated, devastated sometimes.
Some common chronic pain:
Migraines
Cancer (Tumor)
Neck pain
Cervical
obviously, no one can live with these symptoms forever.
Serious outcomes of chronic pain:
Depression
Mood swings
Anxiety
Fatigue
Low energy
It is absolutely clear that one should leave no stone unturned to treat chronic pain.
Now we will see what fatigue comes along:
Fatigue:
Fatigue is a condition in which a person feels a lack of motivation, low energy, exhausted overall, unable to focus. Basically, it is more of a mental condition and needs to be treated.
It can be of two types-
Physical Fatigue:
In which a person is unable to perform simple tasks like climbing stairs, walking, and other physical activities.
Mental fatigue:
Refers to a condition in which the patient is mentally exhausted, confused, lacks of problem-solving ability.
In both conditions, you can not work.
Do you know that chronic pain is one of the Causes of Fatigue?
Some other causes are cancer, diabetes, anemia, anxiety, depression, insomnia, etc.
Severe outcomes of fatigue are:
Pain.
dizziness
Sleepy
headaches
lack of focus
lack of energy
mood swings
irritation
Absolutely, none of us wants to live our lives with such conditions.
After all, happiness is everyone's birthright.
For fatigue and pain management, we are giving you medical marijuana help.
Read our next segment …
---
Best Medical Marijuana Strains for fatigue and Chronic pain relief:
We are well versed in the medicinal properties of cannabis strains. Cannabis plants do wonders for your holistic life.
In the event to know the medical marijuana strains for chronic pain and fatigue, 420expertadvisor has summed up 11 medical cannabis to cure pain and lack of energy.
Have a look at
Our top 11 medical marijuana strains:
Northern Lights
Jack Herer
Afghan Kush
Green Crack
It's time to get insights…
Read along…
---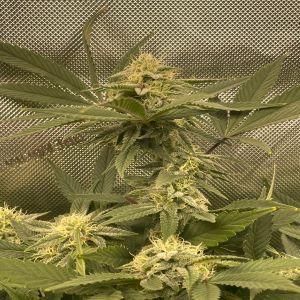 GSC is a highly reliable super powerful Indica Dominant strain. Unbelievably, winner of so many cannabis cups for its quality, it has been favourites of stoners for decades.
Many patients found it extremely reliable marijuana strain to relieve symptoms like pain, lack of energy as well.
Its beautiful densely packed buds can reduce all your pain and relax your body. Stoners from the whole world admire its pain-relieving effects.
Thanks to its high THC and its terpenes, that has made GSC a world-class accepted medical cannabis plant.
It's worth trying!
Features:
Genetics: Durban Poison & OG Kush
THC: 20-25%
CBD: 0.8-1.1%
Terpenes: Caryophyllene, Ocimene, Phallendrene,
Impacts: Sleepy, euphoric, uplifted
---
#2) Northern Lights: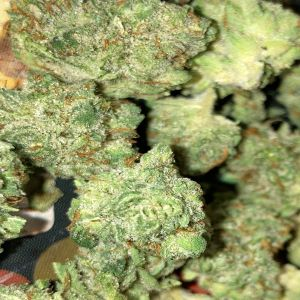 One of the best marijuana strains is here!
With a phenomenal performance in cannabis cups, this strain is well known in the medical community.
Being an Indica dominant strain, it has psychoactive properties that bring you joy and happiness. With balanced THC and good CBD, it relaxes your mind and body.
This is the way how Northern Lights do all the pain management by filling you up with high energy and euphoria.
Surely, the best hybrid cannabis strain you can try for your chronic pain relief and get your focus and happiness back.
Features:
Genetics: Afghani & Thai
THC: 20-22%
CBD: 0.4-0.6%
Terpenes: Pinene, Ocimene, Myrcene, Camphene
Impacts: relaxed, euphoric, uplifted, happy
---
#3) Jack Herer: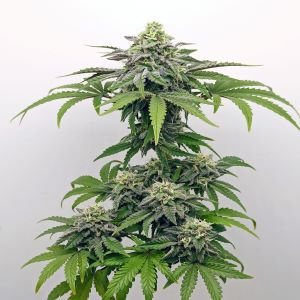 Do you want to meet a medical marijuana bliss- Jack here is the answer for most of your medical and pain issues.
Jack Herer is one of the most calming medical marijuana strains to cope with stress-induced headaches. Also, for those who are seeking help for lacking energy levels, Jack Herer is the one to provide you with great happiness and satisfaction.
Moreover, it is a glorious daytime use of cannabis. If you want to feel good then Jack here will give you the right attitude to face your day.
Hack Herer is the perfect medical cannabis for those who are struggling with low energy and ongoing chronic pain.
Features:
Genetics: Northern Lights, Haze & Shiva Skunk
THC: 19-21%
CBD: 0.7-1%
Terpenes: Carene, Pinene, Ocimene, Myrcene, Camphene
Impacts: Euphoric, uplifted, happy
---
#4) Afghan Kush: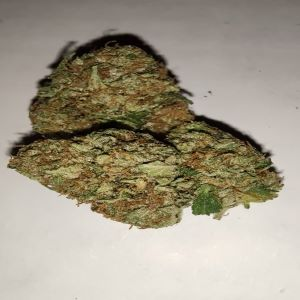 The finest example of landrace Indica strain- Afghan kush from Hindu Kush mountains!
If you want to enjoy your solo high, smoke it and get yourself comfortable with the coziness of your blanket. You will soon feel your all pain fading, your tiredness resolving, and all your worries are leaving you!
What an accountable medical cannabis Strain!
All your depression, hypertension, stress, would be replaced with this potent marijuana strain to leave you with a great mind and body to start with.
Features:
Genetics: Hindu Kush
THC: 17- 19%
CBD: 1.4-6%
Terpenes: Carene, Pinene, Ocimene, Myrcene, Humulene
Impacts: Sleepy, relaxed happy
---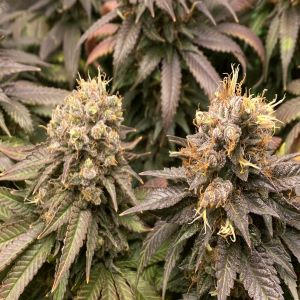 White Widow is one of the most popular medical marijuana that has won several cannabis cups for being a highly influential hybrid strain.
A well-balanced strain with a balanced high to give you a blast of energy with great uplifting effects so that you would feel focused and happy about the task you are performing.
Also, being a hybrid white widow takes you to the era of mental relaxation but with high energy. Simultaneously treats your pain and fatigue.
Many stoners rated it as highly recommended for the effective treatment of stress, depression, pain, insomnia, etc. More research is going on to prove how it gives you such a creative boost, happiness all around.
Quiet Understandable now why it is such a loved strain worldwide!
Features:
Genetics: South Indian Indica & South American Sativa
THC: 17-19%
CBD: 0.5-0.7%
Terpenes: Carene, Pinene, Ocimene, Myrcene, limonene, Humulene
Impacts: Creative, relaxed, happy, uplifted
---
#6) Granddaddy Purple: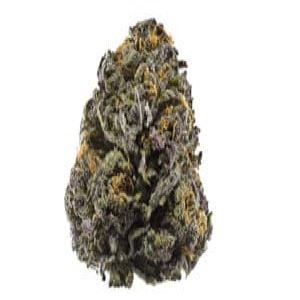 Heavy potent Indica strains to cure your acute pain makes Granddaddy Purple one of the best strains for pain.
Exceptionally blessed with high medicinal properties, this potent Indica can make you couch lock. Obviously, not for novices to try.
I can bet such powerful medical cannabis Indica strains, you won't find anywhere else!
Muscle spasms, depression, stress, PTSD, migraines, lack of appetite are just a few names that Granddaddy purple could cure!
Features:
Genetics: Big Bud & Purple Urkle
THC: 20-25%
CBD: 0.5-0.9%
Terpenes: Pinene, Camphene, Geraniol, Myrcene
Impacts: Sleepy, Euphoric, relaxed
---
Wanna give it a try at some best cannabis strains? Try Blue Dream.
This hybrid Sativa strain is known for its psychoactive effects and pain-relieving qualities. Also with High THC and CBD, Blue Dream will take your pain and fill you with euphoria, creating a happy world all around.
Patients suffering from pain showed a speedy recovery after choosing this strain.
Features:
Genetics: Haze & Blueberry
THC: 18-20%
CBD: 1.7-2%
Terpenes: Pinene, Carene, Myrcene
Impacts: Euphoric, Relaxed, Happy
---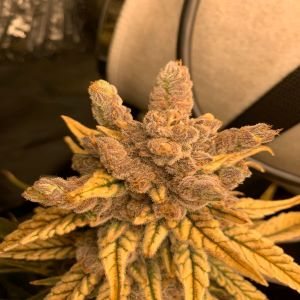 Sour Diesel are Hybrid Sativa strains excellent to relieve pain and make you full of energy.
These cannabis Sativa strains are well known for their potency. Surprisingly, with heavy THC of 24-26%, Sour Diesel won't glue you to the bed.
Impeccable medical strains for chronic pain, low appetite, headaches and lack of energy!
Features:
Genetics: Skunk #1, Chemdawg, Northern
THC: 20-23%
CBD: 1.1-1.4%
Terpenes: Pinene, Carene, Myrcene
Impacts: Euphoric, Relaxed, Happy
---
#9) Green Crack: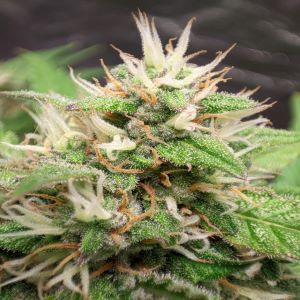 How about relieving pain and treating fatigue with a delicious cerebral high!
Yeah! it's possible with Green crack.
It's a perfect chronic pain medical marijuana that is known to relieve pain and lack of energy without any couch lock activity.
This is the first and foremost reason it is loved by stoners. Not only this, tasty fruity mango-like scent and flavours work altogether to get you a sense of creativity, euphoria, uplift your mood and take you out from fatigue, depression as well.
Green Crack strains -high in demand and have absolutely no side effects!
Still, there is a moment of pause for you?
Features:
Genetics: Skunk #1 & Sweet Leaf Indica
THC: 18-24%
CBD: 0-0.4%
Terpenes: Pinene, Carene, Myrcene, Ocimene, Linalool
Impacts: Energetic, Relaxed, Happy, Uplifted
---
#10) Durban Poison: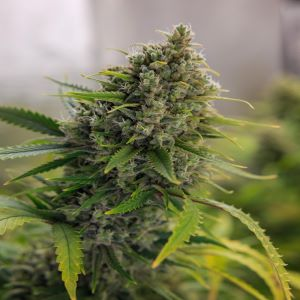 A remarkable pure Sativa medical marijuana for chronic pain relief, nerve pain relief, nausea and other health ailments that are obstacles in your day-to-day life.
Certainly, there is much anecdotal evidence to show its medical relevancy to cure pain, nausea, anxiety, depression, bipolar disorder. Despite carrying the highest THC around 30%, Durban Poison gives a blast of energy and gives you a booster dose to show your creativity.
Seriously, such wonderful marijuana strains for chronic pain relief!
Features:
Genetics: Unknown
THC: 24-30
CBD: 0-0.4%
Terpenes: Pinene, Carene, Myrcene, Ocimene, Linalool
Impacts: Energetic, Relaxed, Happy, Uplifted
---
#11) Super Silver Haze:
Great daytime Sativa dominant strain for pain and other issues.
Many connoisseurs have been found it to have improved quality of life after having it. Medically reviewed by written peer-reviewed studies and also tertiary references have shown how it is helpful for the patients suffering from chronic pain, migraines, fatigue, anxiety etc.
Features:
Genetics: Skunk #1, Northern Lights 5& Haze C
THC: 18-22%
CBD:0.4- 0.8%
Terpenes: Pinene, Carene, Myrcene, Ocimene, Linalool, limolene
Impacts: Energetic, Happy, Uplifted
So, we have genuinely reviewed our top 11 weed strains for pain and fatigue.
Let's talk about FAQs…
---
FAQs about Best Strains for pain and fatigue:
Q1. Are Cannabis Strains for chronic pain mind-altering?

Unfortunately, yes but if taken on higher doses. If you are a veteran stoner and want to have it after a prescribed dose, then THC present contacts cannabinoid receptors and then may lead to long-term disability, memory loss, also nausea.
Q2. What may be the possible side effects of medical marijuana cannabis strain for chronic pain and low energy

Medical marijuana cannabis strain is a natural alternative to medicines. Though they have some negative effects.
> Dizziness.
> Heart attacks
> Poor concentration
> memory loss
> Addiction as marijuana is highly addictive
> Intoxication
> Low productive
> Hallucinations
Q3. Is medical marijuana card necessary before using medical cannabis?

Yes it is. The medical marijuana card is absolutely the first thing you would arrange ahead of buying cannabis.
What strain is beneficial to the body's pain?
Indica strains have always been linked with a more relaxing body high. Consequently, they're frequently prescribed for those looking for strains to aid with pain, sleeplessness, nausea, or a lack of appetite.
What is CBD strain best for pain?
Charlotte's Web is a well-known high-CBD strain. It includes around 13% CBD and very little or no THC. It's utilized in various health and wellness products to alleviate anxiety, pain, and sadness without any euphoric effects.
What is the most exhausting strain for you?
Indica makes you sleepy. Therefore, your system's proportion of THC levels might affect your sleep pattern. For example, a higher THC content may increase the likelihood of insomnia or disturbed sleep.
Is Gorilla Glue a pain reliever?
Gorilla Glue is a potent indica-dominant hybrid that is excellent for sleep, pain relief, and heavy relaxation. It helps alleviate pains.
Is it possible for marijuana to alleviate chronic fatigue?
Chronic tiredness is not cured by cannabis. However, the suitable strains and doses may revitalize and elevate you.
Which cannabinoids aid in energy production?
To combat weariness, look for a cannabis product that contains more THC than CBD. However, a small amount of CBD may still be beneficial. Other cannabinoids to look out for are THCV and CBG.
Does Sour Diesel make you sleepy?
It's generally an "up then down" strain. An initial burst of cerebral vigor gives way to a peaceful, red-eyed relaxation that leads neatly into sleep when effects become mellow.
What effect does indica have on you?
Indica strains are commonly associated with feelings of relaxation, euphoria, happiness, and sleepiness. In addition, indicas are usually referred to as nighttime strains since they are utilized to relax and unwind at night's end.
Is Sativa a downer?
Cannabis sativa strains are often uplifting and provide a "high."
Sativa strains are known for their high limonene content, improving mood, and providing an energetic high. Furthermore, some cannabis strains, such as Indica, promote tiredness.
What is the difference between sativa and indica?
Sativa strains are tall plants with long leaves with short, thin blades, and Indica strains are short height, with broad, short leaves with short wide blades. Indica strains' buds are often comprehensive, dense, and hefty, whereas Sativa strains' blossoms are likely to be sausage-shaped. CBD may be found in indica strains.
Also, Sativa strains are concerned with energetic high while Indica strains make you feel relaxed and sleepy. In other words, Indica strains provide " body high" while Sativa produces "mind high."
Last words:
Undoubtedly, our body creates its own natural cannabinoid receptors and thus has its own healing power. However, cannabis use makes it easy to contact those receptors as cannabis-like chemicals that have cannabidiol which reacts with our body's endocannabinoid system and heal faster.
Many of the patients suffering from such problems provide quality evidence of substantial improvement of their health and nervous system after getting a few puffs of different strains.
Whatever you choose, the smarter way is to have your cannabis gently.
After all, the excess will bring you to only more problems.
Hence,
Smoke weed but gently!